Customers Comments
Outstanding
Gurkhas Kukri is the best online store I've ever found in the Nepal in terms of thier policy, responsibility, product handling. I've make 3 transaction with this company and they don't let me to complain about performance.

James B.R. (UK)
Dhankute Decorative Khukuri / kukri
Dhankuta, A famous village for culture and craft all over the Nepal. Dhankuta is one of the 75 discrict of Nepal which is located in eastern region of nation along with Arun and Tamor rivers. Geographically this is small village which covers an area of 891 km² with altitude ranges from around 300m to 2500m and has population (in 2011 AD) of 163,412. Mostly People involved in agriculture and military sirvice in Indian Gurkha Army, British Gurkha Army and Nepal Army. There are Thousands of people belong to the Kami community who are working as a blacksmiths for so many years. Khukuris made by them in Dhankutta village calls Dhankutte Khukuri. The Khukuri made in this village is attractive designs of blade with comfortable weight to carry, razor sharp and highly tempared steel, use of special crafted and carved water buffalo horn or rose wood or dear horns. There are 100s of designs that are popular and they are also vary by size and type of Khukuri and by purpose.
A DhanKute khukuri is basically a simple working as well as a decorative knife but with a fancy scabbard that has attached Nepalese national symbols on its front panel. The skilled craftsmen craft special scabbard of kukri blade out of buffalo horn and Indian rosewood with displaying various national monograms made from expensive metallic sheets like Brass or White metal or even Silver sometimes such as King's Crown, national bird (Danfe), national flower (Rhodorendron), national Aasla fish as a symbol of peace, khukuri cross for sybbol of pride, sign of a temple (Pashupatinath), the holy sword (Trishul) etc. The basic objective is to compose the khukuri to represent feature of motherland of the brave Gurkhas, Nepal. The glory, sovereignty, character, culture and people of Nepal is tried to captured in this unique work of art by the craftsmen of Dhankuta, Nepal.
General people mostly use Dhankute khukuri as a decorative tool because of its elegant and delicate looks therefore it is categorized under "Decorative" Khuikuri. The blade is slimmer and lighter than the army types Khukuri. It comes in both, Chanipure and Sirupate type blades. The size of blade generally depends on the size of the natural horn available when making. DhanKute Khukuris are typical working knives too but since they are made for display purpose and demands to be displayed to decorate a space, DhanKutes are mostly kept in shelf or stands.
Products Under Dhankute Decorative Khukuri / kukri
Dhankute Horn Khukuri
US $30.00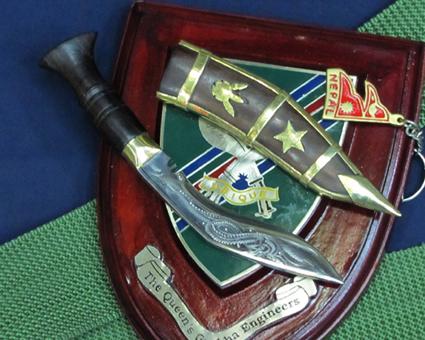 Dhankute Wooden Khukuri
US $35.00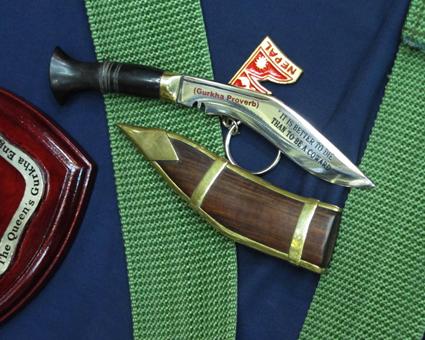 Dhankute Print Khukuri
US $31.00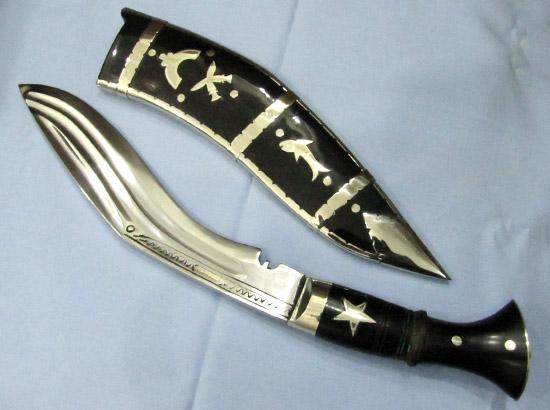 Dhankute Horn Special
US $53.00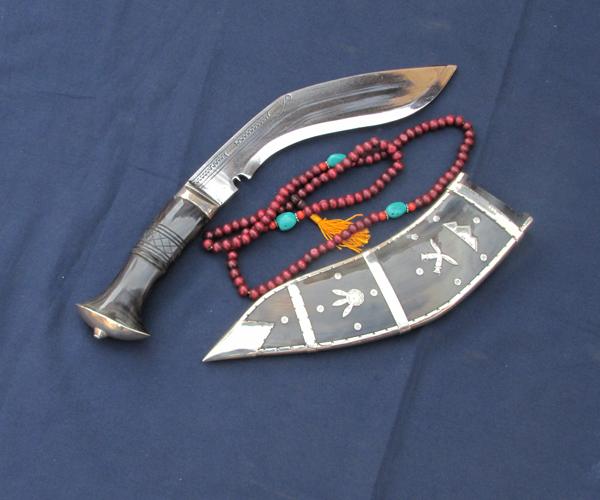 Dhankute Horn Khukuri
US $65.00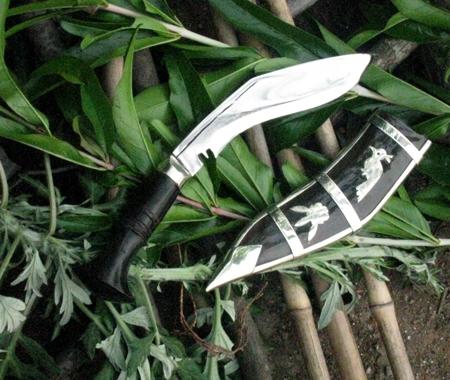 Small size Dhankute Horn Khukuri
US $31.00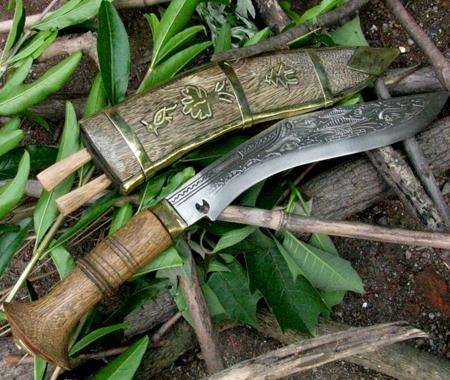 Dhankute Engraving Khukuri
US $47.00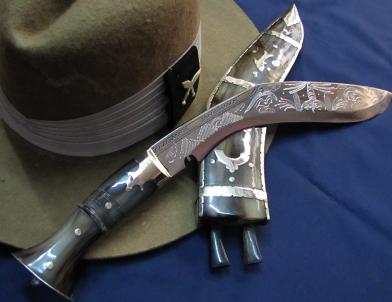 10 Inch Engrave Khukuri
US $85.00

10 Inch Panjawala White Horn Khukuri
US $74.00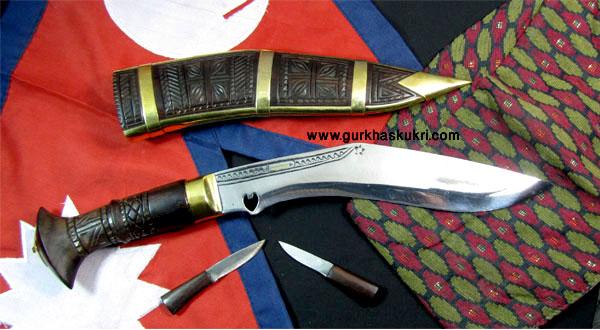 Dhankute Carving Khukuri
US $40.00